Over at
Chloe's Place
there's some stash flashing going on :) So I'm using that as an excuse to show you some of the other things I bought on thursday. Firstly, I should say 'yes, the threads are Linen'.
Bought some delicious Noro wool 'blossom'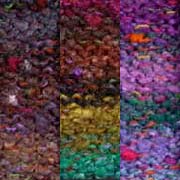 had to go back today for another ball!
Also used my new clover mini iron for the first time doing sone applique with freezer paper,
it is wonderful, need never singe my fingers again :) wish I'd bought one sooner, worth every penny - I'm not on commission ROFL
Talking of applique - it was for my friendship block swap (October) - cutting it fine AGAIN! But finishing the block means I am now solely devoted to finishing the
bags of fun
bag.
After that I am into cq land with christmas ornies and then lovely Angel dollies, then I am stopping and not doing any more swaps - until the next time. In the meantime I am also sewing on Joma's DD's cq block and I posted my DD's blocks yesturday too. The story of these new CQers can be found
here
.